Download After the Deadline for OpenOffice.org (Beta)
OpenOffice.org is a full-featured productivity suite that supports extensions. This extension adds After the Deadline's grammar, style, and misused word checkers to the OpenOffice.org word processor.

Steps to install
This extension requires at least Sun's Java 1.6 and OpenOffice.org 3.2.1
Download the plugin extension
From OpenOffice.org, select Tools -> Extension Manager and click Add
Find the atd-openoffice-XX.oxt file and click OK
Restart OpenOffice.org
If you see a dialog full of gibberish on installation, then OpenOffice.org is configured to use the wrong Java. Follow our instructions to fix this.
Notes
This extension checks grammar, style, and misused words. Look for the blue underline. It works from the Tools -> Spelling and Grammar dialog and as you type.
The Ignore Rules button in the Spell and Grammar check dialog ignores the rule until you restart OpenOffice.org. Click Tools -> Reset Ignored Rules to clear the ignored rules without a restart.
Select Tools -> Extension Manager -> After the Deadline Options to enable additional checks.
After the Deadline requires an internet connection to check your text. If you're not connected, your errors will not be highlighted.
This extension proofreads English text. If you want to check other languages, we recommend LanguageTool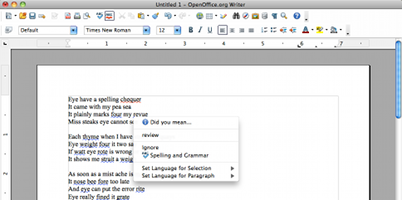 If you install AtD/OpenOffice.org and see this dialog: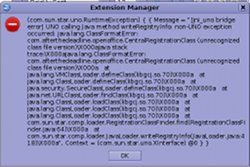 Then you need to fix your Java installation in OpenOffice.org. To do this:
Open the OpenOffice.org Preferences (under the File menu)
Expand OpenOffice.org in the tree view, then select Java.
Select the Java from Sun Microsystems
Here is the dialog where you will change your Java: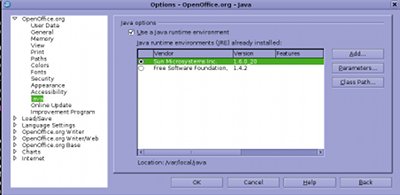 This extension communicates with an After the Deadline server to check your writing. By default, it communicates with our server using SSL. You have the option of running your own After the Deadline server. To do this:
Follow the instructions in the Get Started guide (it's easy)
Go to Tools -> Extension Manager -> Click After the Deadline -> Options
Put: http://127.0.0.1:1049 into the Proofreading Service field.
That's it.
License
Most plugins are licensed under the LGPL. Exceptions to this are noted. Visit the developers page to learn how to contribute.